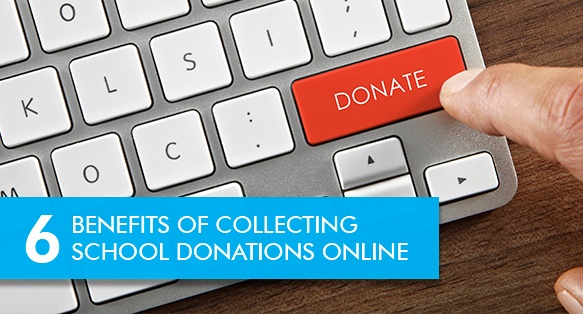 Convenience, simplicity, and security are just a few of the benefits of accepting online donations for your school fundraising efforts. But how else does collecting school donations online benefit you, your volunteers, and your donors?


Here are the top 6 benefits of collecting school donations online:

SIMPLE & CONVENIENT
With a single click, your community can easily donate with their credit, debit card or electronic check. Many donors may not be able to attend a specific event or send a check into school with their kids. Having the option to donate online, allows them to give at any time, from any internet connected device.


DOES THE HARD WORK FOR YOU
One of the biggest benefits of accepting donations online, is the simplicity of tracking and managing donated funds. No more going to the bank to cash checks, counting bills, or handling large amounts of cash. Just login to your online donation portal and see how much money you've raised.
Less cash handling also reduces risk by giving you full accountability, visibility, and control of your incoming donations.


MORE COST-EFFECTIVE
Investing in a software solution that allows you to accept online donations is smart. Collecting donations online can be a natural extension to any fundraiser. Holding a car wash to raise money? Why not also allow folks to donate to your cause online if they're unable to attend. An online solution can become a valuable tool in all your future fundraising efforts.


REQUIRES LESS RESOURCES
Holding a fundraiser can be an expensive endeavor that takes a large amount of resources and volunteer hours. Bringing your fundraiser online, takes a lot of the hard work and expense out of holding these events.
Online fundraisers require minimal effort to start up. You won't need to plan out where to hold an event or coordinate volunteer hours. This means you can focus your efforts on creating excitement around the fundraiser within your community.


INCREASES VISIBILITY & SHARABILITY
Most parents in your school district are online in some fashion, whether for email, internet searches, or social media. Having a page online to collect donations makes it easy to share and promote your online.
Payment collection services like MySchoolBucks School Store, can be setup to allow anybody to make a donation for your cause, making it easier to collect more donations.


INCREASES DONATIONS
If you can make donating as easy as possible, your community will be even more enthusiastic about supporting your cause. With the ease of online donations, more donors will be able to participate.
Online donations can also allow people to set up automatic donations. Perhaps every few months, your donor wants to give a small amount of money until you've reached your goal. Many online services allow donors to set up recurring payments, so they don't have to write a check every time they want to make a donation.
Does you school collect donations online? Let us know in the comments:
---
For more school fundraising inspiration, check out our top 20 School Fundraising Ideas Your District Should Try.