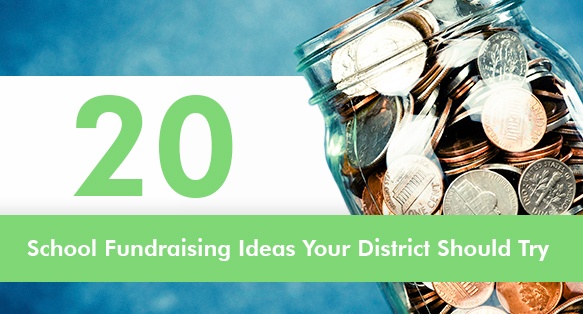 Need some school fundraising inspiration? You've come to the right place! Whether your volunteers are feeling artistically inclined, ready to get active, or just want to keep things simple, we've got you covered.
Here's 20 school fundraising ideas that your district should try:
---

Be Creative
With some creative thinking, your school fundraiser is sure to be a hit. Try one of these ideas to spark some creativity in your program:


Bake Sale - Get a team of volunteers and supporters to whip up, and donate, some delicious baked goods to sell. Always check with Child Nutrition Department first to make sure these treats are allowed to be sold.


Craft Fair – Have volunteers make their own creations to sell at your event. Consider having a theme for your craft fair.


Makeover Day – Encourage volunteers to donate make-up, hair accessories, and other beauty products for a Makeover day! Anyone is welcome to donate to get a makeover at your event.


Gift-Wrapping – Set up a gift-wrapping station with donated wrapping paper and bows. Donors can come in with their items to be wrapped and pay a small fee for your services.



Spark Some Competition
Nothing like a little friendly competition to spark some excitement around donating to a good cause.


Penny Wars - Or as we like to call it "The Battle of Spare Change". Each group collects as many pennies over a specified period of time. To learn how to start your own Penny War fundraiser,

click here

.


Guess How Many – Simply fill a jar full of hard candies, coins, or any other small object. Donors pay a small amount to guess how many items are in the jar. Whoever is the closest wins a prize!


Recyclable Item Drive – Encourage participating groups to collect as many recyclables as possible. See which group can collect the most recyclables to win.


Read-a-thon – Each participant asks for donations from friends and family to support their reading efforts. For a specified period of time, participants read as many books as they can! Visit

Read-a-thon.com

for more information.



Get Active
Why not fundraise for your school and teach your students the importance of physical activity? Get the best of both with these ideas:


Dance-a-thon – Similar to the Read-a-thon, participants raise money to support their dancing. Dance-a-thons can be a lot of work and planning, but they're a fun, and rewarding way to fundraise for your school.


Fun Run – Participants raise funds prior to the Fun Run from sponsors to participate in the race. Consider involving your PE teachers to coordinate lessons on the importance of stretching and proper running techniques.


Staff vs. Students Game – Pick a sport and recruit your teams. Coordinate a time for the big game and charge spectators for tickets to the event.


Field Day – Plan an afternoon of outdoor activities for students and staff. Have everyone sign-up in advance and make a donation to participate.



Put on a Show
Whether it's music, art, or theatre, students love to showcase their skills! Let them show off with these ideas:


Talent Show – Holding a Talent Show is a great way to raise money, build student confidence, and allow parents see their student's shine. Consider holding a Talent Show with no winners. This will encourage camaraderie and teamwork.


Fashion Show – Work with popular clothing stores in your area to donate clothing for your event. Sell tickets at the door and raise money at the event. Your volunteers will have fun and look great doing it!


Art Exhibition – Have students submit artwork to be featured in your exhibition. Collect donations at the door or even auction off some of the artwork.


Battle of the Bands – Encourage students to participate as groups or individuals in your Battle of the Bands contest. Raise money through entry fees or concession sales.



Keep it Simple
Unique events are sure to encourage participation, but these tried-and-true ways have proven to be successful for various organizations:


Raffles – Not only are raffles a successful way to raise funds, but they also don't require much effort to produce high profits. Work with local partners, and stores to provide prizes to raffle off.


Collect Online Donations – A cost-effective way to raise funds is collecting donations online. Services like

MySchoolBucks School Store

, make it easy for districts to setup, collect, and manage donations. Accepting online donations makes fundraising easy for volunteers and donors.


Car Wash - Grab some buckets, sponges, and towels! Car washes are a great way to raise funds and get your community involved. Make sure to promote your event and sell as many tickets as possible.


Candy Bar/Magazine Sales – Selling candy bars or magazines can bring in a lot of funds through programs that are easy-to-use with products that are fun to sell. Find a program that your school is interested in, like

HERSHEY'S fundraising

, and get your students motivated to sell!
What does your district do to raise money for students and the community? Share your thoughts with us in the comments section below: