As school nutrition professionals, we know you're always looking for tasty, yet healthy meals that meet guidelines and are also kid-approved. One way to meet guidelines while satisfying student's taste buds is by adding more vegetables to 'tried and true' recipes like spaghetti.
This is a trick I learned when trying to make sure that my own son ate his veggies! After researching a few different spaghetti recipes, I found a hit with this one from the blog, Mommy's Kitchen. My son raves about this dish and, in our home, it's a win-win for everyone!
I found a comparable recipe, Vegetarian Spaghetti Sauce, on the website USDA What's Cooking? Cooking Bowl. We made a few tweaks, replaced green beans with shredded carrots and added ground turkey. This recipe was just as delicious, and again gained the approval of the entire family!
To see nutrition information for this recipe, please visit USDA What's Cooking? Cooking Bowl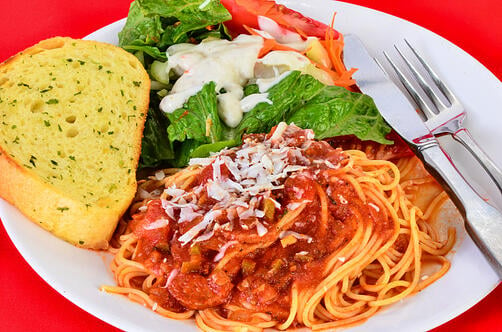 Makes: 6 servings
Total Cost: $5.09
Serving Cost: $0.85
Ingredients
2 tablespoons

olive oil

2

onion (small, chopped)

3

garlic clove (chopped)

1 1/4 cups

zucchini (sliced)

1 tablespoon

oregano (dried)

1 tablespoon

basil (dried)

1 can

tomato sauce (8 oz)

1 can

tomato paste (6 oz)

2

tomatoes (medium, chopped)

1 cup

water
Directions
In a medium skillet, heat oil. Saute onions, garlic and zucchini in oil for 5 minutes on medium heat.
Add remaining ingredients and simmer covered for 45 minutes. Serve over spaghetti.
---
Let us know if this recipe received the green light from your students! Also, please feel free to share your own veggie-inspired recipes.

---