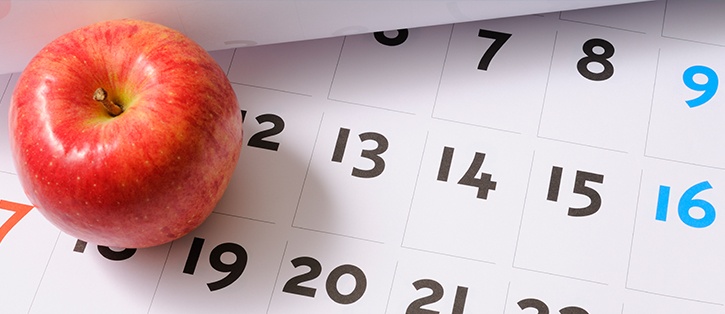 Menu calendars are a staple to any school nutrition program. Whether they're available in print or online, parents at your school district check them regularly. The design of your menu calendars give you the opportunity to portray your program's personality while offering important information in a clear and concise way.
Here are 7 steps to help spice up the look and feel of your school menu calendars:

---

1.) Use consistent fonts and colors
It may seem tempting to use a variety of fonts and colors to add interest to your menus, but it can be distracting! One of the best ways to create a nice looking, clean design is consistency. Try limiting your design to using only 1-2 different fonts. Make sure to use typefaces that are easy to read and omit fonts that are more decorative
Use a similar rule of thumb for colors. You can play with colors to match the season/month or commit to a standard color scheme for your school. Consider using only 2-3 different colors to avoid making the calender look too busy.
And remember, when it comes to colors and fonts always consider readability! Many shades of yellow or orange can be hard to read once printed. It's also good practice to avoid using colored text on top of a colored background. For example, a blue font on a red background will likely be very hard to read.
2.) Make sure meal and item names make sense

Sometimes the default recipe names in your Menu Planning software can be a bit too descriptive for the purpose of your calendars. If you generate your menu calendars right from your Menu Planning software, make sure you change those default names to something more recognizable.
For example, if you have a recipe called 'TOASTED CHEESE SANDWICH:WW' consider using 'Grilled Cheese Sandwich' instead.
Have any themed days or holidays coming up? Don't be afraid to play around with the names of your meals to make options more enticing! Check out these resources from Healthy Food Choices in School to get some inspiration for new meal item names.

3.) Consider omitting daily offerings
Are there certain menu items that are offered daily? Consider leaving those off of each day's meal listings and make a general statement about their availability. This way each day has less items listed and your menus will look less busy.
For example, if you always serve a variety of condiments and milks, try using this statement at the bottom of your menu calendar to mention these items.
"A variety of condiments and milks are offered daily"
4.) Add fun header images
The header of your calendars is the perfect space to add some personality! Create custom imagery using Microsoft PowerPoint or work with your school's Art Department to create truly unique artwork for your calendar headers.
5.) Make sure to add important information
Pricing, school name, contact information - this is all important information that your students' parents may need to know. So make sure it's on your school menus!
Are there certain questions you get calls about often, such as how to apply for free and reduced meals or how your program addresses food allergies? If space allows, consider adding some information that addresses those questions. You can even cycle out this information based on the time of year. Include details about applications at the beginning of the year but swap it out for something more relevant afterwards.
6.) Don't forget to promote your social media accounts!

Does your school nutrition program have a Facebook page? Encourage parents to like your Facebook page or follow you on Twitter. Use icons for the social media networks your program is on at the bottom of your calendars to help promote your online presence.
7.) Include information about paying for meals online
If you allow parents at your school to pre-pay for meals online, make sure to put the web address and logo of your provider right on the menu itself. Getting the word out about online payments adds convenience for parents and helps speed up your serving lines in the cafeteria.
If your school uses MySchoolBucks, you can download the MySchoolBucks logo on Marketing Central to use on your school menus.
---
How does your school spice-up your monthly menu calendars? Let us know in the comments below or share your menu calendars with us on Facebook.