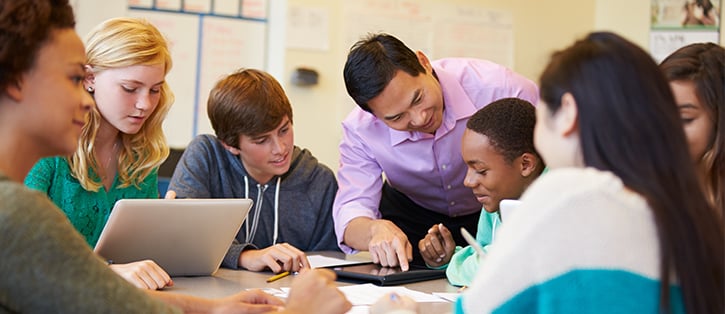 Many schools are incorporating technology into their lesson plans to further engage their students and get them excited about learning. Some examples are so innovative that they've caught the attention of local news outlets and gone viral!
Check out these cool ways schools across the country are incorporating technology:



Dr. Belinda George, the Principal at Homer Drive Elementary School in Texas, began hosting weekly live book reading streams on Tuesday evenings in her pajamas for her students. Dr. George calls her weekly event "Tucked in Tuesdays" and when her students sign on to the Facebook live stream and enter their names in the comments, she makes sure to give them a personal shout-out! Dr. George hopes to encourage reading through this fun exercise.


Cornell School District of Western Pennsylvania now uses virtual reality (VR) in the classroom. Through VR, Cornell's students are able to fully immerse themselves into a 3-dimensional view of Ancient Rome or the Great Wall of China during history lessons. Teachers assign scavenger hunts for students to work together as a team within the virtual world. Virtual reality has allowed students of this Pennsylvania district to explore the world, without having to leave the classroom.


There are a lot of mobile apps that schools are using to communicate with their parents and students, however, Highline Public Schools of Burien, WA, created one on their own! The app allows users to view district news, events, calendars, contact information and more. The app also includes personalized notifications for events and emergencies and can be translated into 70 different languages.


Brent Hoesing, Superintendent of Missouri Valley, IA, has spiced up the way he announces snow days through YouTube. He dubs his own lyrics over popular songs like "Ice, Ice, Baby", "Can't Stop the Feeling", "Uptown Funk" and more. His announcements are so popular that he's become an internet sensation, nicknamed the "Singing Superintendent."

For Dripping Springs ISD in TX, drones have become a part of their regular curriculum. Maria Vickery, the Facilitator of Learning and Innovation for the district, was approached by a parent who had the idea for a class where students could build drones. Over several years the class has evolved and students are 3-D printing their own parts to assemble them. Dripping Springs has since integrated the drones into some of their other classes, using them to teach basic coding and math equations.


Environmental agencies are using webcam technology to give 24-hour access of animals to educators around the world. Teachers can use tools like the Polar Bears International "Live Webcam" when teaching migration, or the Atlanta Zoo's "Panda Cam" if they're learning about different animal species. The Atlanta Zoo also offers resources on their website specifically for educators.


Sacha Luria, a teacher at a Portland, OR elementary school, noticed that some of her students were falling behind, so she began using a teaching method called "flipping the classroom." Using her own money, Luria gathered resources that allowed her to record individualized, online lessons for her students to view at home. Since launching these online lessons, Luria has noticed significant improvements with her students! She also uses this tool for when students are unable to make it to class.
Technology and social media continue to enhance the way we live our lives and how students learn. Many schools are beginning to embrace modern technology to create a more fun and engaging atmosphere for their community.

Has your school done anything unique or "viral" with technology? Let us know in the comments below!