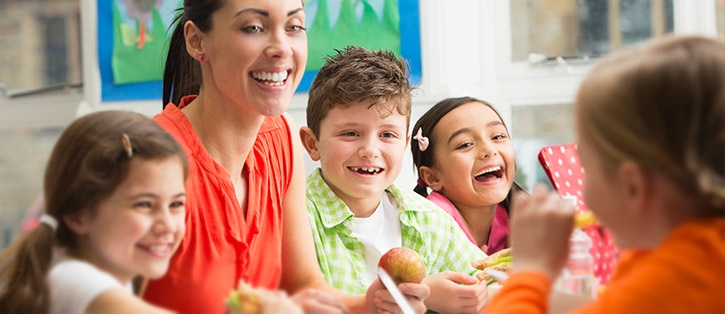 So you're thinking breakfast in the classroom might be the right breakfast service model for your school? Maybe you've noticed students don't have enough time in the morning to eat before class, or that some students are coming to school hungry and unable to focus. Breakfast in the classroom has helped schools across the country increase participation while ensuring that students are well-fed and ready to learn.
Here are 4 considerations to think about before starting breakfast in the classroom at your school:
---

Preparation
Prep time is an important consideration for any meal, but breakfast in the classroom has some added logistics that call for thoughtful planning.
Most programs will prepare and pack their breakfast options the day before. Consider choosing items that would involve minimal prep time. For example:
Low-sugar cereals
Fruits
Yogurt
Low-fat cheese sticks
Applesauce
Whole-wheat bagel with almond butter
Oatmeal
Once you've prepared your meal for the next day, you'll need to count out items for each room to match their class roster and pack each group into their own containers to stay organized. Labeling containers with the classroom number or teacher name is a helpful way to keep track of what's been packed!
You can use bins to carry packaged food items and insulated containers for cold items, like milk, juice, or yogurt. And don't forget to pack utensils, napkins, or straws if needed!
Transportation
How will you get breakfast to the classrooms each day? There are two main ways to accomplish this:
Deliver

- Most schools have meals delivered directly to classes. Use carts or rolling racks to carry all your pre-assembled meals to each classroom.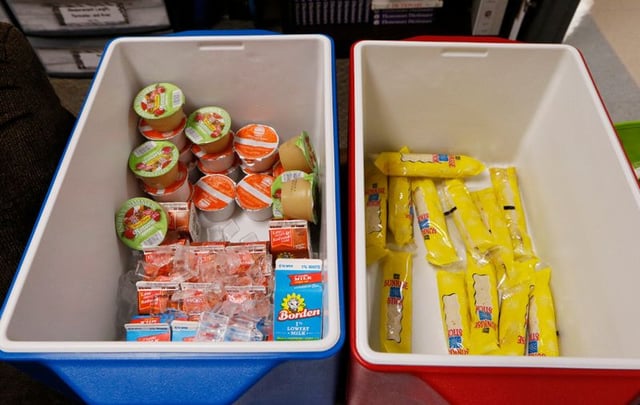 Breakfast is stored in containers in classrooms at Heather Glen Elementary School. (David Woo/Dallas News Staff Photographer)
http://www.dallasnews.com/news/education/2016/11/28/food-thought-dallas-area-schools-bring-breakfast-classroom
Pickup

– Some schools find it easier to have teachers, parent volunteers, or designated students pick up meals from the cafeteria instead.
Find a solution that works best on a per school basis. You may find that delivery works best at one school while pick-up is better for another. Or perhaps a combination of the two works well for different grade levels. For example, kindergarten and first grade classes may need meals delivered, but older students will likely be able to manage picking up food themselves.
Time
This is likely a key concern your teachers will have. Many teachers worry that breakfast in the classroom will eat into their instructional time. However, with some thoughtful planning and teamwork, breakfast in the classroom can be done during normal morning activities and take up little to no instructional time.
Most schools account for about 15-20 minutes for students to grab their meals, eat, and clean up. It's important to be respectful of the time teachers will need to fit breakfast into their schedule. Be sure to communicate the importance of a good breakfast and pass along these helpful tips to make sure things run smoothly in the morning:
Assign student leaders or ask for help from parent volunteers

- Parent volunteers can be a lifesaver for classrooms with younger kids. They can assist with clean-up, picking up food at the cafeteria, and making sure students take their seats after grabbing their food.

Teachers should also consider designating a few student leaders to help make sure the classroom stays clean, desks are wiped down, and trash is properly discarded after eating.



Have students pick up their food on the way to their desk

- Place breakfast items at the front of the classroom or near the door so students can grab them as they enter. This way, teachers can easily check attendance as students pick up their breakfast and properly tally who has chosen to take a meal and who has declined. This also helps teachers ensure that all students take each component of the planned menu, instead of only grabbing a portion of it.



Complete morning activities while students eat

- After students grab their meals and head to their desks, teachers can use this time to complete their daily morning tasks like announcements or collecting homework. Some teachers even use this time to incorporate short lessons on nutrition, exercise, or the importance of a good breakfast.



Set up a 'share' station

- If you have students that want to take a meal but don't want a specific component of it, have them put that item on a 'share' table for other students to take. The 'share' table is not essential, but it can be a good way to help reduce waste.
Teachers know their classroom best, so be sure to work with them to find a morning routine that everyone can agree on.
Cleanup
Cleanup, pest control, and spillage may be at the forefront of your custodial team's mind. And rightly so! Unlike the school cafeteria, classrooms may not be as thoroughly cleaned on a daily basis. Because of this, it is very important to make sure you've addressed what's needed for proper food cleanup. Here are a few things to consider:
Who will be cleaning up?

- Typically students and teachers are primarily responsible for cleaning up after breakfast. Designated students or parent volunteers can be responsible for wiping down desks and collecting trash. Schools have found that when students are involved with routinely cleaning their spaces, there is little to no extra work for custodial teams or teachers.



How will spills and crumbs be handled?

- To start, make sure all participating classrooms are stocked with extra cleaning supplies like wet wipes, paper towels, sponges, and cleaning spray. This way when a spill happens, teachers or parent volunteers can quickly clean up the mess. For larger spills or bigger messes, it may be best to have your custodial team ready to help.

And remember to be considerate of the type of messes that could be made. For example, you could eliminate cereal options for classes with younger students who might be more prone to spilling. Try to select options that are less likely to spill for younger age kids.



Where will trash go?

- Great question! Work with custodial teams to have garbage cans in the hallway so food does not get thrown out in classroom trash. Or have a separate trash bag for breakfast garbage and have teachers place it outside the classroom afterwards for custodians to dispose of.

Liquids can be poured in the classroom sink or in a designated bucket. If you do pour milk down the drain in a classroom, it's recommended to keep the water running for about 30 seconds to ensure it doesn't spoil in the drain.



What about leftovers or recyclables?

- Consider having roaming carts in the hallways after breakfast is done to collect recyclables or leftovers. Some schools also have teachers, parents, or students deliver the uneaten items back to the cafeteria.


---

As always, find a solution that works for your schools' needs. Many times combining multiple alternative breakfast service models can be the best way to increase participation in your district.
Does your school or district serve breakfast in the classroom? Tell us more about your program's successes or challenges in the comments below!