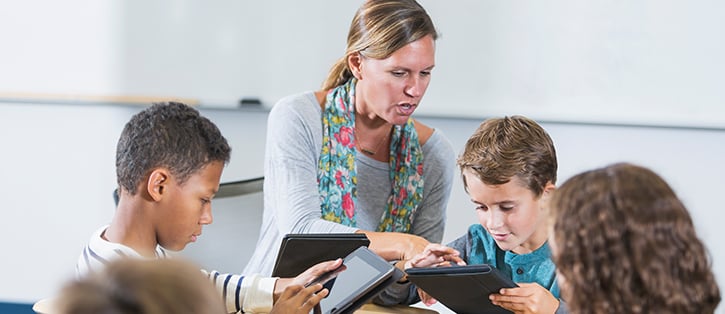 Schools across the country are using classroom management apps to enhance the education of students and help teachers improve their lesson plans. These apps help teachers better manage grades, student attendance, seating charts, parent communication, and more.


Here are 10 classroom management apps worth checking out:

With over 20 million users in over 60,000 schools, Schoology helps teachers manage their entire classroom with ease. Students can easily submit assignments and collaborate with one another, while parents can communicate directly with teachers.




There are over 1 million teachers using TeacherKit to help them stay organized. This includes student attendance, grade book management, student behavior and more. With this app, teachers essentially have their own "assistant".

Socrative Teacher helps better assess students needs in the classroom and compile information to create quizzes, feedback, games, surveys, and more. With a free version available, it may be what some of your teachers are looking for.




Another app that helps improve daily operations, schedule attendance, manage gradebooks and more is PowerSchool. In fact, student grades have increased for many districts since the implementation of PowerSchool. We are also a preferred partner of PowerSchool!

Class Act helps teachers manage and assess student progress throughout each lesson. Easily create and edit seating charts, manage student history, and utilize the random student generator for questions to keep students alert.




There are over 100 million students who count on Blackboard for their learning. Blackboard is a learning environment that helps to deliver a unique and effective learning experience to each student. Student engagement, notifications, grades, parent communication and more are all offered through this platform.



One great way to increase classroom participation is with Kahoot! Games and activities are available in different subjects to help engage and assess students learning comprehension. This app provides an opportunity for the entire classroom to get involved in learning. And best of all, it's free for K-12 users!



Google Classroom makes it simple for students and teachers to connect on projects. The app helps manage classes, assignments, communication, and more. With a very easy startup process and no fees, it may be worth sharing with your teachers.


ClassMax is a powerful classroom management app filled with tools designed specifically for teachers, by teachers. It helps determine student's areas of weakness, manage gradebooks, and manage student accomodations. Hall passes can also be administered and monitored through the app.


Nearpod helps teachers spend less time planning, and more time teaching. This app comes preloaded with thousands of lessons that are customizable to fit your classrooms specific needs. Currently, Nearpod is available in three out of every five school districts across the country.
These apps are powerful tools that help teachers manage, assess, and improve student learning. Better classroom management benefits teachers, parents, but most importantly, the students!
Are there any apps your school is already using? Let us know in the comments below.