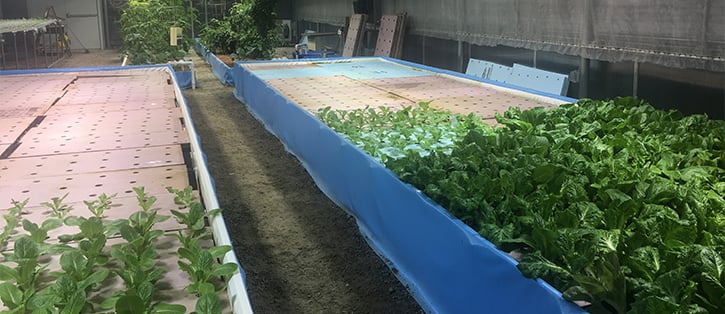 Creating a school garden is a fun and engaging way to give students a hands-on learning experience. School gardens help students learn about eating healthy, growing their own food, and can have a more meaningful impact when it comes to the nutritional decisions they make. While traditional school gardens remain very popular, some districts are taking this idea to the next level with aquaponic gardens.


Unlike traditional gardens, an aquaponics garden uses no soil and combines fish with plants in one complete system. In this system, the waste produced by the fish acts as an organic food source for the plants, while the plants provide nutrients back to the fish and naturally filter out any impurities in the water.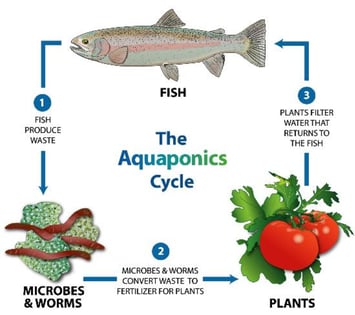 Growing In Our Own Backyard
Webster Central School District launched their own aquaponics garden in October 2016. With Webster being a quick drive from our Rochester office, we were excited to take a trip to meet with Mark Balfour, Director of Food Services, and learn more about his operation.
Mark has been in the school foodservice industry for more than 30 years and has played an instrumental role in getting Webster's aquaponics garden off the ground. What started out as a plan to create a hydroponics garden quickly evolved after Mark's boss stumbled upon a documentary on an aquaponics greenhouse in California. After researching the topic more and attending a convention on aquaponics, Mark determined that this type of garden would be beneficial and could work for their operation. After getting approval from the school board, he started to break ground on the new greenhouse.
Building From the Ground Up
Mark worked with a company called Nelson and Pade to design and deliver their greenhouse. Initially, an outside contractor was hired to begin assembly, however, the project was moving at a slower pace than expected. Mark decided to bring on their school's building and grounds employees to complete the assembly, keeping the project on schedule. In the end, this decision provided a huge cost saving benefit as school employees can now manage on-going support and preventative maintenance for the greenhouse.
After the five-month building process, an additional three months were needed for the aquaponics system to run and stabilize itself in preparation for housing all the fish.
Once ready, they slowly introduced the fish to each of the four tanks they have on-site, being very careful not to affect water temperature, pH, and other factors that might shock the system. Throughout the process, Mark worked with local farmers, advocates, and fellow districts to get advice and stay current on best practices.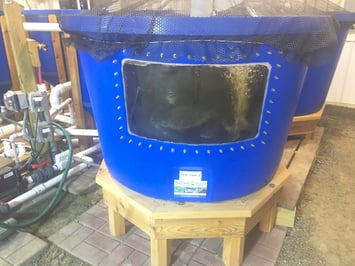 From seed to salad
The seed table is where tomatoes, cucumbers, lettuce, and other vegetables begin the process from seed to salad. Seedlings start out in seed starting trays and once they are big enough, they are transferred to a station called the nutrient film technique. This allows the vegetables to receive the necessary nutrients to continue maturing before they're transferred over to their final stage, the floating tray stations.

| | | |
| --- | --- | --- |
| The Seed Station | The Film Technique | The Floating Raft Beds |
It takes roughly 40 days for lettuce to fully develop, and once it does, it's distributed through the schools in Mark's district to provide nearly 25,000 salads throughout the school year. Although Webster at this time can't produce enough lettuce to serve all their needs, they save a considerable amount of money and have improved the educational experience for their students. Stay tuned for their plans to build a second greenhouse!
Much of Webster's success can be attributed to the amount of time and effort Mark has put into their garden. In fact, he can often be found there on the weekend and it wouldn't be a surprise to see him there on holidays too. Getting started with a garden isn't easy, but the end result is quite delicious!
If you're interested in getting started with your own aquaponics garden, check out some of these free resources: