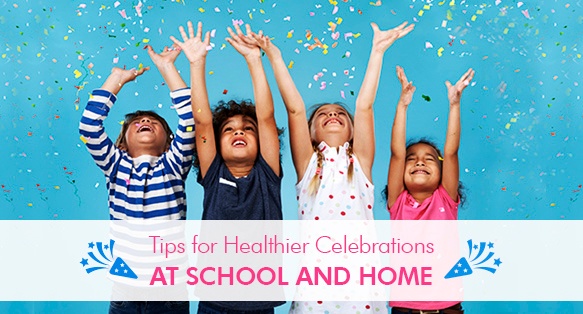 Whether it's festivities at school or birthday parties at home, celebrations tend to offer foods that may undermine healthy eating habits for kids. But with some creative party planning you can take steps to make celebrations healthier.
Check out this month's FitFuture Parent Newsletter for a few tips on how to make celebrations healthier at school and at home:


Food & Beverages


Most celebrations revolve around sweet treats and yummy snacks, which can make it hard to keep party foods healthy. Consider these options to lighten the calories:

Have party participants engage in making the food they eat! Build your own fruit kabobs. Or create personal pan pizzas using whole grain dough, tomato sauce, skim mozzarella cheese, and diced veggies.


Offer drinks that are low sugar, like club soda, water with fruit slices, or fruit smoothies.

Keep the sweet treats in small portions - mini-cupcakes, pudding in paper cups, or yogurt parfaits.


Activities


Being physically active can make your celebration fun and healthy! Activities can range from going to an outlet mall to taking the kids bowling or roller skating.



Party Bags


Limit the amount of candy in your party bags. Instead, offer other party favors like stickers, magnets, book marks, small toys, or colored pencils. It's also a good idea to be mindful of objects that may be a choking hazard or candies that party goers could be allergic to.


---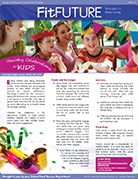 FitFuture Parent Newsletter:
Healthier Celebrations at School & Home
Newsletters are the perfect way to share healthy living tips with your community! Post this newsletter on your district's website or on the back of your menus.
Download Color PDF
Download Black and White PDF

---