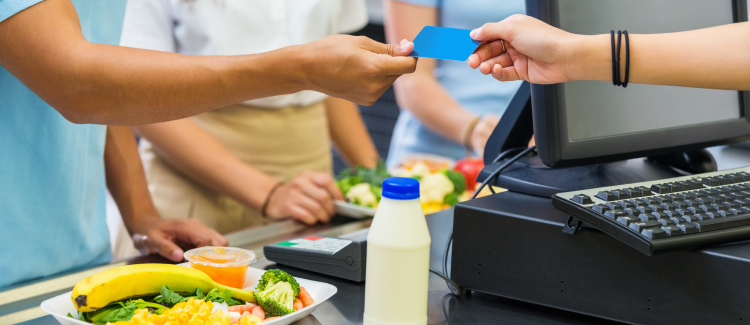 In summer 2022 universal free meal waivers expired and, due to this change, many school nutrition programs are again faced with the challenge of managing student meal debt. In a November 2022 survey of school nutrition directors conducted by the School Nutrition Association, districts reported meal debt as low as $15 and as high as $1.7 million with an accumulated debt totaling over 19 million dollars nationwide.
As summer approaches, here are a few tips that can be implemented at the end of the school year to try to tackle school meal debt that's already accumulated, and how to plan ahead for the upcoming school year.
What to do this year
Send out parent notifications
The first step to getting meal debt in order before the end of the year is to send out balance notifications to parents. This can be something as simple as sending home a letter notifying them of their student's negative balance. Sometimes those letters may get lost in the bottom of a backpack, so it's also a good idea to set up automated emails and phone calls that will remind parents of their negative balance and how they can pay.
Invoice for unpaid meal charges
If a letter sent home isn't enough, an online platform, like MySchoolBucks, can make it easy for your program to invoice parents directly for those funds. With an automated invoice feature, administrators can streamline fee collection instead of having to manually review each student who may have a negative meal balance. Student invoicing not only saves you time, but helps with peace of mind knowing an account hasn't been missed.
Collect donations
Providing the ability for parents to give a donation is another option when it comes to managing school funds. With an online tool like MySchoolBucks, a school can collect donations for whatever might be needed and give parents the option to add a donation amount right at checkout. In this case, utilizing it for unpaid debt could be helpful, especially for those students that are going through hardship and don't have the funds to catch up on their negative balance before the school year ends.
How to prepare for next year
Offer easy access payment methods
When it comes to a payment method, pick a system that is easy for both the school and the parents to utilize. Then, make sure at the start of the year they're aware of how simple it really is by putting up posters around school, sending students home with flyers detailing the different ways their parents can pay, and even posting about it on school websites and social media accounts. The more parents are aware of how simple it is, the more likely they will be to do it!
Create awareness and keep parents informed
Before kicking off the school year, make sure parents know what your charging policy is and how they can pay for school meals. For schools with an online payment platform, it's incredibly important to get the word out to parents on how they can easily and securely fund their student's balance online. This can be done in a number of ways:
Send emails to parents as the school year approaches with information on meal prices and policy with detailed information on how they can pay.
When school starts, send students home with letters that contain information on how to sign up if they haven't yet and how to keep using the tool effectively throughout the school year.
Consider adding the information onto the school website and in the student handbook so parents know if they ever forget the information that there is somewhere they are able to easily track it down.
Organize a meeting with the school's Parent Teacher Association where parents can get a demonstration of how to use the software and ask any lingering questions.
Make sure families know how to sign up for Free and Reduced meals
Leading up to the new school year, it's important to make sure all students who are eligible for free and reduced meals have signed up. This helps to guarantee every student who needs a meal is able to easily get one, and without shame. It's important for parents to be aware of this process before school begins to ensure systems are properly updated at the start of the year. In certain cases, a student officer may even be able to apply on behalf of a student.
To sign up, families can use a paper application. However, to make the process even simpler, consider offering an online application, like MySchoolApps, as a more convenient way for families to apply digitally. Not to mention, it saves on the amount of time a school will need to review and process all of the paper applications. Some districts even choose to set up in-school kiosks where a parent or student can sign up quickly right in the main office. The ability to avoid having to send home a paper application, and the responsibility of the student to return it, will make the lives of everyone involved easier and more efficient.
Establish charge limits
If you haven't heard of charge limits, it's a great feature that allows districts to choose if they want to allow students to incur a negative balance, or set a minimum. Setting up charge limits can be done within a point of sale system, like Mosaic POS, where a school establishes what their limits will be. Charge limits can be determined district-wide, per school, and even per student. These settings don't have to be permanent, and can be edited throughout the year if it's later decided too many students are in the negative, or more flexibility is needed.
As this school year comes to an end, it's important to have a plan in place for managing your meal debt. With these tips in mind, you'll feel more confident creating a plan that works as this year comes to an end, and you begin to plan for the 2023-2024 school year ahead!