Looking for a little bit of spice to heat up the school kitchen? Check out our school lunch recipe for Quinoa Enchilada Bake. Proving to be quite popular with high schoolers, this dish is a great way for students to eat their vegetables while also satisfying their taste buds.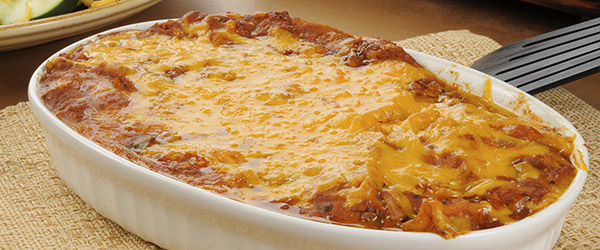 Quinoa Enchilada Bake
Number of Portions: 100
Size of Portions: 3x3.5 servings
Ingredients
Quinoa, uncooked - 2 qts. + 1/4 cup
Water - 1 gal + 3/4 cup
Oil, Canola - 1/4 cup + 1/2 tsp
Onions, raw, chopped - 1 qt. + 1/8 cup
Garlic, raw - 25 cloves
Red peppers, sweet, raw, chopped - 2 qts. + 1/4 cup
Yellow peppers, sweet, raw, chopped - 2 qts. + 1/4 cup
Corn, canned, whole kernel (liquid pack) - 2 q­ts. + 1/4 cup
Lime juice, condensed or bottled, unsweetened - 1/2 cup + 1 tsp
Cumin, ground - 2 tbsp. + 2 3/8 tsp
Chili powder - 1/2 cup + 1 tsp
Cilantro - 1/4 cup + 1/2 tsp
Black beans, condensed, Drained - 16 2/3 (15 oz. can)
Enchilada sauce - 16 2/3 (15 oz. can)
Cheese, Mexican, blend, reduced fat - 1 gal + 3/4 cup
Directions
Preheat oven to 350°.
Add quinoa and water to pan and bring to a boil. Boil 5 minutes and let simmer for 15 minutes until the water is absorbed.
Remove from heat source, cover, and set aside.
Heat oil in large skillet, and add the onion and garlic. Sauté until ingredients soften. Add peppers and corn. Cook an additional 5 minutes. Add lime juice and spices. Stir until all combined.
In a large mixing bowl add the quinoa and black beans. Add sautéed vegetable mix and combine. Add enchilada sauce and mix all together. Add half of the cheese.
Pour into a greased backing dish. Top with remaining cheese. Cover with foil and bake for 20 minutes.
Remove foil and bake 10-15 minutes until cheese is bubbling. Remove and let set for 5-10 minutes.
Cut into 3x3.5 inch servings and enjoy!
What do you think? Let us know how your students reacted to this dish in the comments.
---