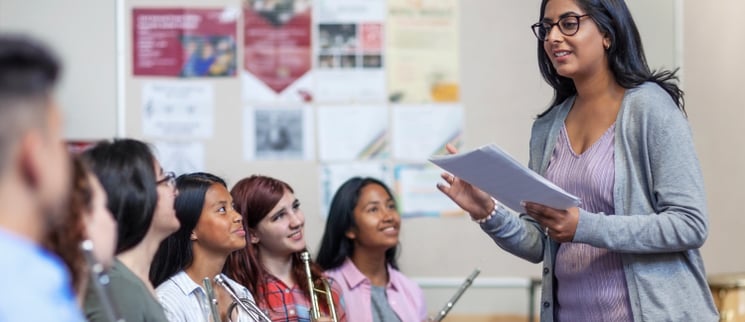 Planning a school event can take a lot of time, effort, and resources. From scheduling the event to coordinating all the little details, there's a lot that must be done. Let's take a look at the 5 important steps to make sure your event is set up for success.

1) Coordinate the details

First, you need to establish your goals for the event, and what the purpose is. Is it a fundraiser and you need to set a goal for how much you raise? Or, is it the homecoming football game and you want to reach a new record for attendance? Setting these goals will help you determine how to prepare for the event, and how you're going to get the word out.

Based on this, some other factors can already be answered such as the date, like if it's a big game and the schedule is already set. If it's some other type of event, do you know where you'll be holding it, or how big of a venue you may need? You can also determine how many people you'll need working, and if you should create volunteer sign-ups. Don't be afraid to ask your community for support! Both students and parents are a great option when you need more helping hands.

2) Create a budget

Setting a budget is an important step. This helps you determine how big you can go for the event, if you should try to get sponsors to help support you during this time, or if you need to set up a fundraiser. Often, schools create fundraisers that students can participate in to help raise money. If you're considering this, use an online tool like MSB's Pickle Juice fundraising feature to help collect funds to supplement your budget and bring your event to life. You can easily set a goal, and students can make personal fundraising pages to share with family and friends to boost donations.

3) Use event management software

Choose what tools you will use to help in the event planning process. An event management software platform, like MSB Tickets, can assist with the organization and execution of your event allowing you to sell tickets online and track revenue in one place. These types of platforms also provide tools to make it easy to set up an online event page and easily promote your event virtually.
Some school events may require more robust features outside of ticket sales and promotions. Do you need attendees to be able to reserve their seats when purchasing a ticket? Would you like attendees to be able to receive a mobile ticket to scan at the door for fast, contactless entry? Thinking through what additional features would be useful for your event needs will help ensure you find the right platform for your planning.
4) Establish your online presence

In this day and age, having an online presence is always going to be an important part of planning any type of event. Students and their parents spend much of their time online, so it's a great way to reach them and spread the word about your upcoming events. Using platforms like Facebook and Instagram can help you quickly, and for free, share information about your event and allow others to share. Don't forget to include a unique hashtag that you and your attendees can use when sharing content about the event.

5) Execute on the big day

A lot of work happens leading up to the event day, but what's just as important is being prepared when it finally arrives. In the week leading up to the event, make sure you and your team are on the same page. Everyone knows what their roles are for the day, and what they need to bring or are responsible for. Check-in with any outside vendors to confirm they're on track too. Make sure all of the technology and software you are planning to use is functioning properly and your team knows how to use it for things like ticket scanning and running the concession stand.

Remember to keep posting on social media too. This is your last chance to reach anyone who hasn't heard about your event yet. Most importantly, don't forget to enjoy it! School events are a huge undertaking and make a big difference in a student's life and the experience they have while attending school.