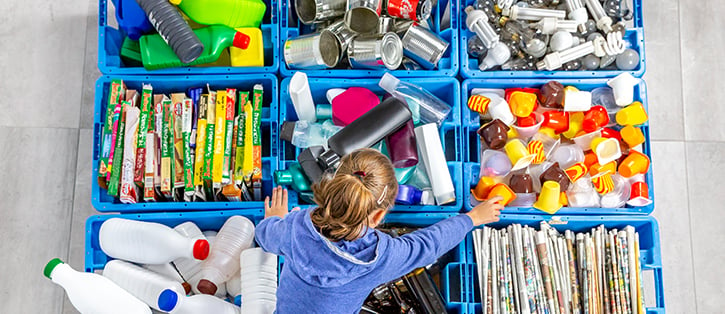 That's a great question and likely one that many nutrition programs may not be able to answer. It's estimated that K-12 schools throw away roughly $1.2 billion dollars worth of food each year! One study found that K-12 schools in Minnesota generated 483,520 lbs. of waste in a given school day and the most prominent category of items filling up the trash cans was food waste.
Knowing that food waste is a big problem, many school nutrition programs are trying to mitigate wasteful habits by conducting waste audits and implementing new practices to help reduce overall waste. One school in California has even implemented a new program with the goal of having zero-waste by 2020. While that may be a lofty goal, your school can still make small steps towards reducing overall waste with initiatives like Waste Wednesday.
---
What is Waste Wednesday and why is it important
Waste Wednesday is an event your school can hold to help get an idea of how much waste is being thrown out each day or serving period. On each Waste Wednesday, a group of volunteers will gather and sort waste into categories like compostable food items, recyclable food items, recyclable materials, and/or landfill waste. You could also sort out individual items, like straws and napkins, to highlight how many of those particular single-use items are discarded. These categories are then weighed or counted so your program can have a numeric value to how much is being thrown away each day.
By sorting through the waste right in the cafeteria, students are able to see an accurate, visual representation of just how much is thrown out in a single serving period. Using this information can lend itself to meaningful discussions with staff and students about food waste and provide unique opportunities to tackle this growing problem.
How to hold a Waste Wednesday
To get started with your own Waste Wednesday, you'll need a plan to kick-off the new initiative. Here are a few steps to help you get started:

Recruit a team of sustainability-minded students or staff to assist with sorting the garbage. You may be able to work with a teacher and have Waste Wednesday be a student-lead initiative or class project. It's helpful to identify someone at your school who is passionate about conservation

to help build excitement around your initiative.




Identify a date for your Waste Wednesday and promote it to your staff, students, and parents through social media, cafeteria signs, and/or digital signage.


On Waste Wednesday, your volunteers will help separate leftovers into separate garbage cans while also informing students about the importance and significance of this event. Here are a few different categories of waste you could sort out:

- Compostable food items
- Recyclable items
- Landfill items
- By item, such as straws or napkins


Photograph and weigh/count each type of waste at the end of the day in order to collect measurable data.


Share the results with your students, staff, and your school community to raise awareness and help promote better decision-making when it comes to food waste.
To grow your Waste Wednesday initiative throughout your district, try having a friendly competition between sites or grade levels to see who can produce the least amount of waste within a given month.
What we can learn from Waste Wednesdays
Waste Wednesday provides an opportunity for students to learn about responsible consumption and see how small changes can make a big difference.
Waste Wednesdays can also help you learn more about:
Students' food preferences - You may find that certain menu options are thrown away or un-eaten more often. This information can help you make better decisions for your menus, reduce costs, increase sales, and ultimately drive less waste through your facility.


Serving size adjustments - Perhaps students aren't finishing an overwhelming amount of one particular food item. This would be an opportunity to adjust the portion size accordingly to eliminate that excess waste.


Designated receptacles for recyclables or compostable items - Having concrete values for the amount of compostable or recyclable items in the trash can be important information to use when considering if sorted waste receptacles would be beneficial to your program. Or, if you already have these sorted bins, you may find that many students are still throwing compostable or recyclable items into the trash. If this is the case, it may be important to educate students on what items go where and ensure your bins are clearly labeled.


---

It's important to remember that reducing waste and working towards being a zero-waste school won't happen overnight. However, increasing awareness and educating students with initiatives like Waste Wednesday can have a huge impact on reducing your overall waste.
Is your school or nutrition program actively working to reduce waste? Let us know how your district is tackling this problem in the comments below!