At one time or another, we all have the need to review our personal finances. With the start of the New Year, this may even be one of your resolutions. Good planning, budgeting and goal setting all come into play.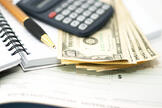 School Nutrition (SN) Magazine's "Annual Personal Development" issue has moved from Spring to January, and the timing is perfect! With the New Year just beginning, most of us our motivated to focus on positive changes and lifestyle improvements.
If improving your personal finances is one of your New Year's resolutions, or even if it's not at the top of your list, this article is for you! There is great information here for the entire year, and for every day. Strategies for paying down debt, saving for the future, and eating healthy on a budget.
Take a look at "Money Matters", which includes bonus content on the web version. Article by Karly Kolaja, a freelance writer from CT and published by School Nutrition, January 2015 issue).