Each work week, the demanding schedule of being a parent can make it easy to resort to on-the-go, high calorie foods in place of more nutritious family meals. With that in mind, this month's FitFuture focuses on tips to create quick and healthy meals the whole family will enjoy.
4 Steps to Quick and Healthy Meals

With some simple preparation on the weekends, parents can meet the demands of a hectic work week, while still offering quick and healthy meals. Here are 4 easy steps to follow:

Write down 5-7 entrees the family enjoys that are tasty, kid-friendly, nutritious and don't take a long time to prepare. Once you have the entrées, you can add healthy sides like vegetables, fruit and whole grains. To round out the meal, add a glass of nonfat or low fat milk.

Look at your pantry and refrigerator to see what ingredients are missing. Add these items to your weekly grocery list. Some basic staples to keep on hand may include canned tomatoes, spaghetti sauce, beans, frozen vegetables, whole grain pasta and rice.

Prepare some of the meals ahead of time. Cook in batches so you have leftovers for another quick meal or freeze it for later.

Ask for help setting the table, placing the meal in the oven before you get home, washing and chopping vegetables or cleaning up after the meal.
---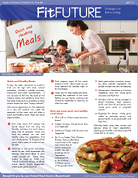 Need some healthy meal inspiration? We also included a few of our favorite quick and healthy meal ideas in our free download of this month's FitFuture: Quick and Healthy Meals.
---