Starting each day with a healthy, nutritious breakfast helps children concentrate better, be more creative, and be more physically active. But with a hectic morning schedule, how do you guarantee your child is getting a healthy breakfast?
This month's FitFuture Parent Newsletter highlights some of our favorite quick breakfast ideas that will help your morning run a little bit smoother. Check 'em out!
10 Quick Breakfast Ideas

Apple slices and peanut butter

Berries mixed into oatmeal or yogurt

String cheese with whole-wheat crackers

Whole-wheat waffles topped with peanut butter

Open-faced grilled cheese with a slice of tomato

A granola bar with a piece of fruit

Pineapple pieces mixed into cottage cheese

Small containers of low-fat yogurt

Cheese and baby spinach quesadilla

Fruit smoothies
Want more quick breakfast ideas? Don't forget to download this month's FitFuture Parent Newsletter: 25 Quick Breakfast Ideas below for more inspiration.


---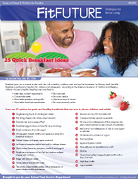 FitFuture Parent Newsletter: 25 Quick Breakfast Ideas
The perfect way to share healthy living tips with families in your community! Post this newsletter on your district's website or include it on the back of your school menus.
Download Color PDF
Download Black and White PDF


---