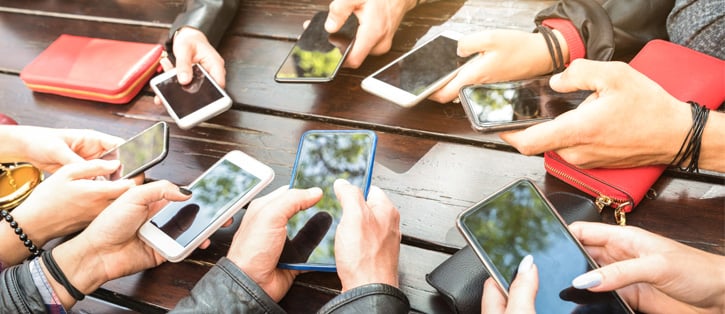 Today's generation of students - aptly dubbed "iGen" - are more digitally connected and technically savvy than any other group on the planet. They grew up with the internet and never knew a time where information, a photo, or a status, couldn't be shared in seconds with the swipe of a finger or click of a button.

The manner in which iGens consume information is vastly different than the students that came before them. Most iGen teens are multi-screen users and are accustomed to consuming large amounts of media from multiple touch points all at once. With smartphones in the hands of 95% of teens and the ubiquity of photo, video, and information sharing apps like TikTok, SnapChat, and YouTube, the way that today's students communicate and engage with one another has drastically evolved. So isn't it time that we adapt the way we communicate and engage with them?
Introducing HiveTV
That was the question we asked ourselves when we began developing our new communications platform, which launches this month. This new platform, called HiveTV, makes managing and disseminating school communications simple and effective. Through a network of digital signs, HiveTV can display announcements, broadcast news, and promote school functions, quickly, easily, and in the digital format that today's students prefer.
Here are a few reasons why more and more schools are starting to adopt platforms like HiveTV and use digital communications across their campuses:

They get noticed
Digital signs capture 400% more views than static signage like posters or flyers. Not only do they attract more eyes, information shared on digital signs is also more likely to be remembered - the recall rate of digital signs is a whopping 83%, which is significantly higher than any other form of media.



They make content management simple
Once you print a flyer or sign, you're stuck with it. If the information changes - say you need to change the location of prom ticket sales - each sign would need to be taken down, reprinted, and replaced. With digital signs, you can change the content of a single sign, or every sign across an entire school district, from any computer - you don't even need to be on campus.

They're eco-friendly
Did you know that on average, schools in the U.S. use more than 40 billion pieces of paper each year? That's a lot of trees! Digital communications can drastically cut down on the need to print informational communications. And while digital signs need electricity to run, the amount of energy consumed by powering a digital sign is a small fraction compared to the energy (and money!) needed to produce, print, distribute, and recycle paper communications. So go digital and go green. Mother Earth will thank you for it.



They're hyper-relevant
Between all of the different distractions clamoring for students' attention, you need to share relevant, personalized content in order to cut through all the noise. Digital signage gives you the ability to communicate personalized messages to different groups of students. You can change content based on school site, grade level, or even just one area of a single school. You can also schedule content that only displays at a particular time of day so that students see only the most relevant information at any given time. The more relevant the information, the more likely students are to pay attention to it.

They help boost school spirit (and academic achievement)
Good communication translates to a more informed and involved student body. Digital signs can help increase event attendance, plus they make it easy for students to share Tweets or photos from an event. And since many studies show that students with more "school spirit" perform better academically than their less spirited peers, why not employ better tools that promote your school activities? Spread the word about the homecoming dance or Friday night's football game on your digital sign and see more students at the pep rally!

We're thrilled to expand our product offerings that help bolster the student experience and make school communications easier for administrators. Are you using a digital communication tools at your school? Tell us about it the comments below!