March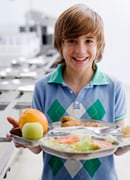 18, 2015 - FoodServiceDirector.com announced the Top 100 School District Cafeterias as reported by Niche. We would like to congratulate all of the Top 100 school district cafeterias that made the grade as the best in the country. Niche's Best Food ranking is a comprehensive assessment of food quality at school districts. Their evaluation is based on survey responses from students, parents, and alumni.
Over 580,000 opinions on food from 215,000 students and parents, provided the results based on food quality, healthy options, and accommodation of dietary preferences.
Congratulations to all of the top 100 school district cafeterias! We are truly honored to serve so many of you.
Niche.com is headquartered in Pittsburgh, PA and was founded in 2002.