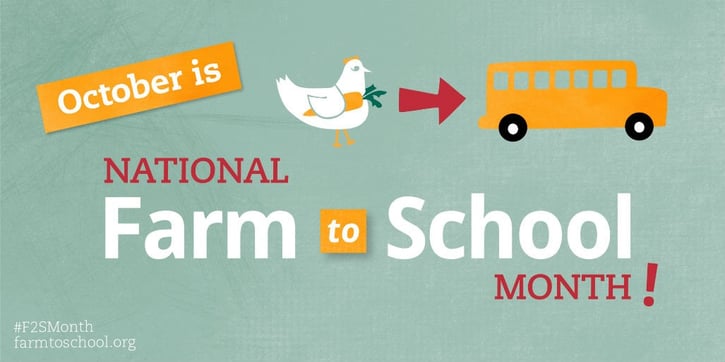 October is National Farm to School Month, which celebrates the connection schools and their communities have with fresh, healthy food grown by local producers.

The 2016 National Farm to School Month theme, One Small Step, highlights the simple ways anyone can get informed, get involved and take action to advance farm to school in their own communities.
Each week of National Farm to School Month has a different theme to celebrate:
Education (Oct. 3-7)
Healthy School Meals (Oct. 10-14)
Farmers + Producers (Oct. 17-21)
The Next Generation (Oct. 24-28)
Hold a Healthy School Meal Cooking Contest where students are encouraged to create and prepare their favorite meals with locally grown foods. Host a Take Your Parents to Lunch Day so parents can get a glimpse into how your school participates in Farm to School. Or download posters, stickers, and bookmarks to give to your students:
For more fun ideas on how to celebrate, check out their National Farm to School Network's Resource Database. Or visit farmtoschool.org for more information on how to start a Farm to School program at your school.
Does your school celebrate National Farm to School Month? Tell us how you celebrate and share your #F2SMonth pictures with us on Facebook!