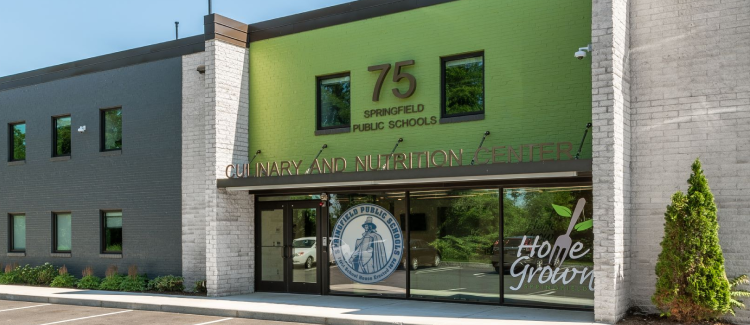 In the world of school nutrition, efficiency and accuracy are crucial. For Springfield Public Schools in Massachusetts, delivering nutritious meals to over 28,000 students across 66 public schools and 12 charter/parochial schools is no small feat. We recently had the opportunity to visit Springfield Public Schools, where we saw firsthand how they utilize MCS to manage their operations from Back of House to Front of House.
With services spanning from breakfast and lunch to dinner, weekend meals, and even meals during the summer, Springfield Public Schools leverages a centralized warehouse and kitchen. Branded as Home Grown Springfield, their culinary and nutrition program ensures that no student goes hungry. Read more to see exactly how Springfield Public Schools streamlined their operations by partnering with Heartland School Solutions and implementing MCS.
MCS offers extensive reporting and menu options that make it easy to craft nutritious meals that adhere to the latest federal and state guidelines, and still stay within budget. We sat down with Andrew Stratton, General Manager of Home Grown Springfield, to discuss his experience with MCS. "Our dietician, myself, our menu development team, utilize it to make sure we're following USDA regulations." His team recently went through their first USDA Administrative Review with MCS, "we were nervous on how we would get through it, but the documents we were able to produce from the software covered our USDA regulations, they were able to review them and see everything they needed to see so we had good marks on everything."
For Executive Chef, Mike Wolcott, the most important thing is how MCS "helps in costing out [his] menus and making sure [his team is] within the parameters [they] need to be in." Home Grown Springfield can now manage their operations with precision, ensuring meals are prepared, packaged, and delivered on time. This efficiency ensures that every student receives quality meals without any issues.

To manage the massive warehouse within the Culinary Nutrition Center (CNC), Warehouse and Logistics Director John Marrero and his team use Edison and Edison Mobile. John's team handles around 98% of the product that goes to the schools, so organization and efficiency are a top priority. That's why they perform a full inventory twice a month. A process that previously took 6 hours now takes only 3, freeing his team to work on orders for the next day. John specifically credits inventory tags and Edison Mobile for improving efficiency and their FIFO score. John was especially excited about the improvements to waste, "For the most part, we've cut our waste down to zero."
We are thrilled to be a vital part of Springfield Public Schools' journey. Tony Brown, the Senior Systems Analyst, gave us a heartfelt shoutout, acknowledging our dedication to training their extensive team of over 300 employees and assisting in the development of their system. "I've been in the software industry for 30 years, and Heartlands has been the easiest company I've had to work with." The partnership goes beyond a business agreement; it reflects our commitment to delivering excellence in school nutrition. We couldn't be more excited to continue supporting Springfield Public Schools.
Learn more about how a partnership with Heartland can help streamline your nutrition program.