---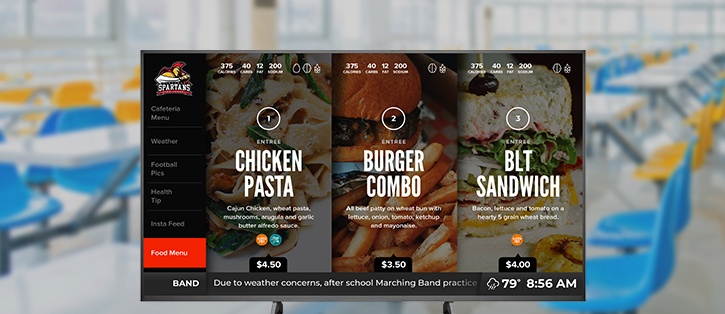 Say goodbye to whiteboards and printed menus and hello to new and up-to-date digital signage! Digital signage is changing the way cafeterias around the country share their daily menus and school announcements. It not only gives your cafeteria a fresh, updated look, but also helps to engage your students and increase participation.
A report conducted by Grand View Research, Inc. suggests that the digital signage industry will nearly double in the next decade. You might be saying to yourself, "I operate and manage a school cafeteria. Why is this important?" As the use of digital signage becomes more and more prominent in industries such as retail, restaurants, transportation, and healthcare, it will soon become the norm and one of the most effective ways to engage students in the lunch line.
Generation Z - the students that are currently enrolled in K-12 schools - are the first group to have grown up surrounded by cellular phones, computers, and information at their fingertips. Researchers have coined the term Digital Natives to describe these youngsters who crave and respond well to technology. As the world becomes increasingly more digital, printed menus, dry-erase boards, and other static options for displaying menus and nutritionals will become more and more obsolete.
To avoid becoming antiquated, it may be time to consider adding digital signage to your cafeteria. Check out the 6 reasons digital signage could be great for your district.


1. Lower Student's Perceived Waiting Time in Your Cafeteria
If you were to ask students why they do not eat in the cafeteria, "waiting in line" would be one of the most common responses. Though it is certainly important to try and make lines move faster, it is how students perceive the wait that is vital. Digital signage gives your cafeteria a whole new dynamic! With digital signage, your cafeteria line becomes an exciting social experience. Display pictures of your students or your staff, videos of sports events, the weather, sports scores and so much more! It's simple, saying goodbye to the tedious and boring wait in line makes students more likely to eat in the cafeteria.


2. Effectively Market Your Program
Capturing the attention of your students has become significantly more difficult in the digital world that we live in. Despite this difficulty, the goal remains the same. At the end of the day, the school cafeteria is a business and the objective is to sell more trays. Not only are you trying to serve the healthy food that you have prepared to as many students as possible, but the participation rates of your cafeteria(s) reflect the quality of your work. Technology gives you the tool you need to market your program to today's digital native students successfully.
There is no easier way to keep your cafeteria fun than by having fresh and relevant content readily available to your students. Digital Signage is the simplest to manage, least time consuming, most cutting-edge and most affordable means of displaying this content. Easily make changes to your Menu Boards and display new photos, videos and content to keep your students engaged!


3. Create a Retail-Inspired Experience
Many students opt to eat at fast-food restaurants instead of at the cafeteria despite it being more expensive and less convenient. Go into most fast-food restaurants, especially newer ones, and you will find either digital menu boards, televisions or both.
Installing digital signage in your cafeteria creates a retail inspired experience so you can keep up with the competition and helps keep more students from leaving campus to get food. As previously mentioned, the school cafeteria is a business and if this business is to prosper, then it must adapt as its competition adapts.


4. Easily Make Changes to Content and Menus that are Displayed
I have the pleasure of talking to Nutrition Directors on a daily basis and the one thing that I am constantly hearing is how busy they and their staff are. While that is the nature of the job and Digital Signage cannot change that completely, it can make it better. Not only do printed menus, PDFs and other outdated solutions take a long time to prepare, they also must be changed and corrected if an issue arises. Often times, this requires reprinting and investing that time again for a small change. Let technology work for you and free up some time for you and your staff. With Digital Signage, you can easily change menus and add new content from any computer with an internet access!


5. Post Announcements and Publicize School Events
Digital signage can help you communicate with your students in the way that they are accustomed to receiving information. Signage allows any important announcements to be shown to students in a location where they are sure to see it. This not only assists in communicating what is going on in the cafeteria, but can help in publicizing any school wide announcements or upcoming school events. What an excellent way to raise student involvement and school spirit!
Though we all hope that it is never necessary, emergency management and planning is also a vital part of maintaining a safe and prepared school. In the event of an emergency, the Digital Signage can display information to make students aware of the situation and see instructions on what to do. The communication of an emergency situation and the protocol in that circumstance can be the difference that saves student lives.


6. Promote Healthy Eating
Making menus and nutritional information available to students promotes healthy eating. Giving students the ability to familiarize themselves with nutritional information by displaying it on Digital Signage empowers students to develop healthy habits and an awareness of what they eat and how they eat. Starting these habits early can create lifelong healthy tendencies.


Now that you know some advantages to having Digital Signage in the cafeteria, you can consider some areas where its addition may help!