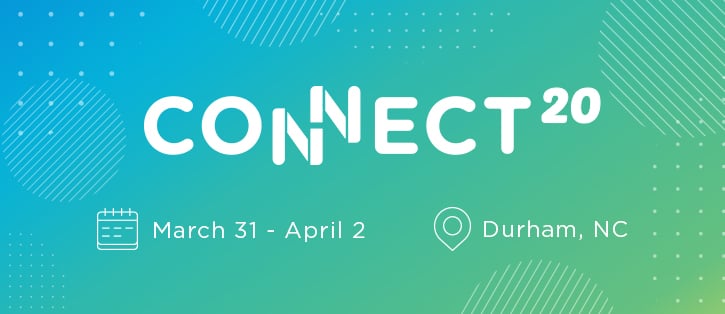 Due to the growing concerns regarding the COVID-19 virus, we have made the difficult decision to cancel our Connect 2020 training conference in Durham, NC.
Learn More >
With over 150 nutrition professionals and 70+ software training classes - there are a lot of reasons you won't want to miss Connect 2020! So if you've already booked your travel or if you're just reviewing the session catalog, checkout these 6 reasons you and your staff need to be at Connect next year:


---
Become a software expert
Whether you're a nutrition newbie or a program pro, there's always something more to learn about the solutions you use everyday. Choose from a variety of in-depth software sessions with our talented trainers that are perfect for schools who use Mosaic, MCS, NutriKids, WebSMARTT, or MealViewer. Checkout the complete session catalog for a list of all the classes we'll offer this year.


Collaborate with your peers
Our trainers aren't the only experts in the classroom. Every year our attendees tell us how powerful it is to be able to talk through challenges and discuss solutions with other schools from around the country. Learning how your fellow peers address problems or where they've found success is just as valuable as any software training.

Schedule some time on your agenda to attend an Idea Exchange for a facilitated, open discussion on different industry-related topics. Or, spark up a conversation over lunch about what other schools are doing to help grow participation or tackle unpaid meal charges. These dynamic conversations are a great way to build a network of forward-thinking food service professionals who can help each other grow and succeed even after Connect 2020 concludes.


Grow and develop new skills
We've curated a variety of strategy-based classes that help you learn tactical skills that will help your entire operation. Here are a few of the classes we're particularly excited about:
How macro events impact the school nutrition industry
Do you know how much of an impact large-scale political, social, and economic events can have on your program? During this session, we'll discuss "big picture" issues of immigration, trade policy, climate change and the long-term impacts they will have on our industry - and what you can do about it.


Food Art 101: Learn how to create food art that students will love
Have you ever seen an apple owl? Or, a pear porcupine?! Join this fun, hands-on class to learn and create your very own food critter that you can display in your serving lines to amaze your students!


Strategies that help you grow true leaders on your team
Back by popular demand, join this session to learn leadership techniques that will help you to identify and develop leaders on your team, create a culture of responsibility, and celebrate winning.


Sneak peek at what's coming in 2020
Get the inside scoop on what's in the works for 2020! By attending Connect, you'll have an exclusive chance to gain a deeper understanding of Heartland products and see - first hand - the cutting edge, new technologies that could help shape the future of your operation. Whether you want to learn about upcoming software enhancements or see the all-new MV Sync capabilities, you'll leave Connect knowing more about what we have planned for the new year.


Meet with Heartlanders
Did you know over 40 Heartlanders go to Connect every year? That's almost a quarter of our whole team! This event is the perfect opportunity to meet and get to know the software experts, sales reps, account managers, and support specialists that you speak to on the phone. Set aside some time to chat one-on-one to get the most out of your time together.


Celebrate & have fun!
Connect isn't just about the classes! We have evening celebrations where you'll be able to enjoy amazing food, wonderful company, and good music. You'll also want to be sure to make the most of your trip to the Raleigh-Durham area and check out some of these popular activities.


---

Connect 2020 is your time to make lasting connections with your peers, your software, and the Heartland family - plus, have fun while doing it! Grab your spot and register before November 22 to save $200.