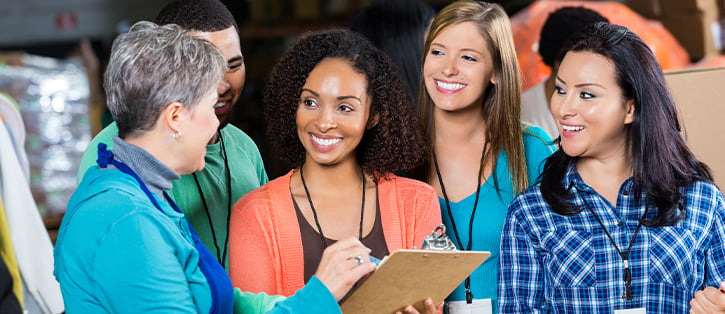 The beginning of the school year is a busy time for parent teacher organizations to raise funds for events, field trips, school supplies, athletics, and more. Fundraisers also help PTO or PTA volunteers get involved with their school community to reach their organization's goals. While raising money can be as easy as requesting a donation, hosting events or contests can increase participation and provide a fun experience for families. Here are some unique fundraising ideas for your parent organizations this upcoming school year:


1. Student vs. Teacher Face Off!
Sporting events are a fun and engaging way to raise funds for your PTO program. Try involving both your students and staff in a friendly, competitive game of basketball, volleyball, or other sport of your choice. Sell tickets to see the student's team face off against a team of coaches and teachers. You can also set up a concession stand at the event to raise even more funds. Market the event around your district by putting up flyers in hallways and cafeterias, posting it to your school website, and mentioning it on morning announcements.



2. Community Tasting Event
Reach out to local restaurants and request that they donate a menu item for attendees to try at your event. Tickets to the tasting event can be sold in addition to raffle tickets filled with donated items from local businesses. This can provide local restaurants with a great opportunity to have exposure while giving attendees a nice variety of foods to sample. Inviting the school band or student musicians to play music during the event will also add a nice touch!



3. Student T-Shirt Design Contest
Host a t-shirt design contest where students submit their school shirt designs and select the winner by vote. Order shirts with the winning design and offer them for sale on your school website and at school functions. Companies like Bonfire allow you to design your shirt, while handling the ordering and fulfillment so you can focus on meeting your fundraising goals.



4. Food Truck Rodeo
Invite all of your local food trucks to come participate in fun night filled with delicious food! Tickets to the event can be sold prior to the event in order to participate or ask the food trucks to donate a percentage of their proceeds to your selected organizations. Games and other activities like pie the teacher, ring toss, or corn hole, can also be set up at the rodeo where attendees pay to participate.

5. Tournament Fundraiser
Organize a tournament fundraiser event like bowling, golf, or basketball, and invite your community members to participate. Consider selling different ticket packages for admission to the event: normal admission, admission and a drink/food item, admission and a t-shirt.
Greenville County Schools in South Carolina has hosted a golf tournament for the past 23 years to help raise money for graduating seniors. This past year, Greenville collected more than $39,000 selling tickets and accepting donations online through MySchoolBucks!


An exciting fundraising event can increase participation and donations for your PTO groups. Partnering with MySchoolBucks gives you more time to focus on your event planning with solutions that make collecting donations easier.
If you have your own creative ways that you fundraise, be sure to share them with us in the comments below!