---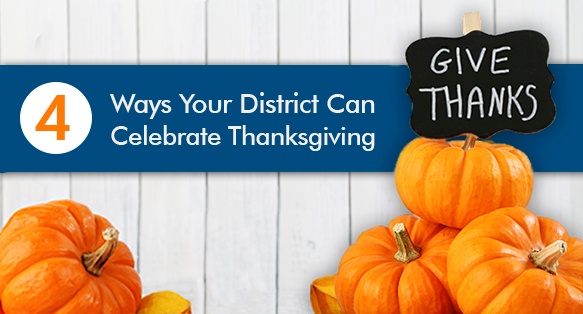 Thanksgiving is the perfect time for a school community to come together and celebrate the spirit of the holiday with one another. How are you celebrating Thanksgiving in your district this year?
If you need a little inspiration, below are a few activities you can do with your staff and students to help you get into the spirit of the holiday.


Decorate the Cafeteria
Colorful harvest-themed decorations are a simple and inexpensive way to set the tone for the holiday and help transform your cafeteria or school to look and feel like Thanksgiving.
Decorate tables in the cafeteria with orange flat paper that students can use as a colorful tablecloth. Add baskets of markers to each table and encourage them to make handprint turkeys!
Have students make Thanksgiving crafts that can be displayed on table tops as baskets for snacks or centerpieces. Need inspiration? Try some of these Thanksgiving craft ideas from familyeducaiton.com. Then have a decoration contest between your different tables – students vote on the most festive!
Create a "Thankfulness Wall" in a section of the cafeteria where students can write and post what they're most thankful for.


Organize Donations
While Thanksgiving is traditionally a time to reflect on the things you're thankful for, it's also a great time to teach students the importance of giving back to others. Your community will also benefit from your district's generosity.
Setup a space in each of your district cafeterias or other places around school for students to donate canned goods and other non-perishable food items to donate to your local food bank. Need help finding a food bank? Check out feedingamerica.org to easily search for a food bank in your area.
Is your district serving a Thanksgiving meal? Invite individuals or families in need from your community to join your students and staff for a Thanksgiving lunch or dinner.
Create gift baskets stuffed with non-perishable items and cards from students and deliver them to your local homeless shelter.


Provide Learning Tools
Learning doesn't have to stop when students leave the classroom – you can also bring lessons into the cafeteria! Here are a few tools you can use to turn Thanksgiving into a lesson that will help students enhance their understanding and appreciation of the holiday.
Create Thanksgiving trivia placemats filled with information about the history of Thanksgiving and the meaning behind the holiday. Scholastic has a number of resources and media tools you can use to teach students about the first Thanksgiving.
Provide Thanksgiving-themed books for students to read after they're done with their meals. Need help finding resources? Check out the Scholastic Teacher's Store for a number of Thanksgiving-themed books and packets for great learning tools and activities for students of all ages.


Serve a Thanksgiving Meal
Of course, no Thanksgiving would be complete without the traditional holiday meal. Serve up foods like sliced turkey, whole grain-rich stuffing, and mashed sweet potatoes to provide a meal that is healthy, delicious, and meets USDA guidelines. Need help planning your Thanksgiving menu? Heartland's Mosaic Menu Planning is loaded with hundreds of recipes and thousands of ingredients so you can easily create menus that comply with the Healthy Hunger-Free Kids Act.
These are just a few of the many ways your district can celebrate this holiday together. What are some of your own favorite Thanksgiving activities that you've enjoyed with students and staff at your district? Tell us in the comments below!
From all of us at Heartland, we hope you and your families have a safe, wonderful, and healthy Thanksgiving!
---