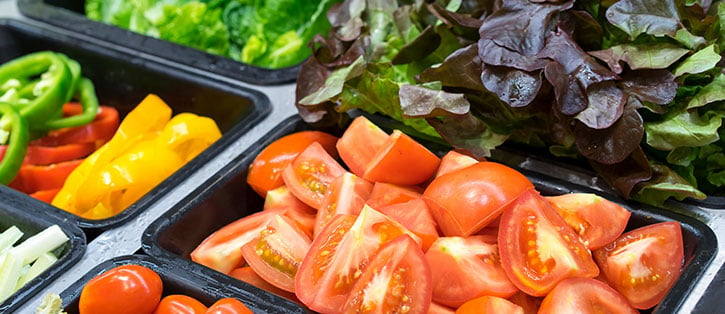 Coming up with new, healthy recipes for school cafeterias can be challenging to say the least. Fortunately, many states and organizations across the country have developed cookbooks full of nutritious recipes school kids will love.
Here are 13 of our favorite school cookbooks that feature plenty of locally sourced ingredients and flavors from around the globe:
Fruit and Veggie Quantity Cookbook
New Hampshire
Developed by the New Hampshire Department of Health and Human Services, this cookbook features 31 tasty recipes including soups, salads, breakfast items, side dishes, and main dishes. All the recipes include ingredient quantities for 25, 50, and 100 servings. Each portion provides at least 1/2 cup of fruit or vegetables and limits added sugar, fat and sodium.
---
Now We're Cooking!
Minnesota
Enjoy this collection of 50 delicious recipes served across Minnesota schools that focus on simple scratch cooking. Each recipe has been taste tested and approved by school kids, support HHFKA nutrition standards, and incorporate the use of local foods and/or ingredients available in the Minnesota School Food Buying Group.
---
New School Cuisine: Nutritious and Seasonal Recipes for School Cooks by School Cooks
Vermont
This cookbook features more than 75 kid-tested recipes written exclusively for school cooks, by school cooks. All the recipes comply with the latest nutritional standards and are organized by meal component for added convenience.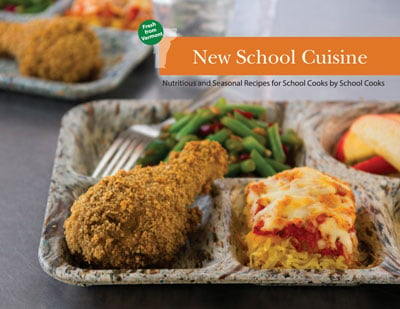 ---
The Colorado Farm to School Cookbook
Colorado
Here you'll find 50 healthy and delicious recipes featuring fresh Colorado ingredients, including Pumpkin Cranberry Bread, Pulled BBQ Sliders, Black Bean Brownies, and more!
---
Menus that Move
Ohio
This set of seasonal cycle menus help schools serve tasty meals that meet all nutritional guidelines. Each season contains five weekly menus for grades K-8 and 9-12 that features 50 standardized recipes.
---
Fresh From the Farm: The Massachusetts Farm to School Cookbook
Massachusetts
This cookbook includes 45 easy-to-follow recipes using Massachusetts fruits/vegetables such as Brown Rice Pilaf with Carrots, Chinese Green Beans, Tropical Cole Slaw, and Garlic Mashed New Potatoes. Each recipe is designed for 50 or 100 servings and have been tested by food service directors, cooks, and students.
---
Kansas School Recipes
Kansas
Kansas State Department of Education has put together a comprehensive set of nutritious, school-tested menus that take the guess work out of serving healthy HHFKA school meals. 8-week lunch cycle and 6-week breakfast cycle meal plans are available.
---
Let's Cook Healthy School Meals
Project Bread
This school meals cookbook has over 100 creative, kid-friendly recipes from school food professionals across Massachusetts. Recipes are organized by meal component and designed for 100 elementary school-sized portions.
---
Michigan's School Day Just Got Healthier
Michigan
Get 17 chef-inspired recipes your schools' kids will love including Sweet Thai Chili Chicken, Cowboy Stew, Turkey Florentine Wrap, and more!
---
What's Cooking? USDA Mixing Bowl
USDA
This website includes a database of over 500 standardized recipes. Narrow your search by meal component, calories, sat. fat, and sodium.
---
This supplement to the Iowa Gold Star Recipes Cookbook, includes ten new recipes developed by Chef Cyndie Story. These recipes incorporate more dark green, orange/red vegetables, legumes, and whole grains into school meals.
---
Washington State's "Scratch Cooking" Recipe Book
Washington
This cookbook showcases dozens of recipes submitted from Washington State LEAs. Each recipe is offered in 50 and 100 servings. HACCP directions and nutritional analysis is also provided.
---
Cooking with California Food in K–12 Schools
Center for Ecoliteracy
Cooking with California is not only a cookbook, but a menu planning guide organized around six basic dishes, five cultural flavor profiles, and four seasons. Each recipe is designed to inspire schools to incorporate more fresh, local and seasonal foods into the meals students eat everyday.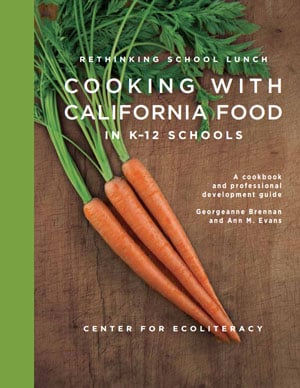 ---
Did you find a recipe you liked? We certainly hope so! As with any recipe you decide to serve in your cafeteria, we recommend:
Using menu planning software to performing your own nutrient analysis to ensure each recipe meets federal guidelines.
Reviewing HACCP instructions for any changes.
Scaling the recipe for the appropriate number of servings needed.