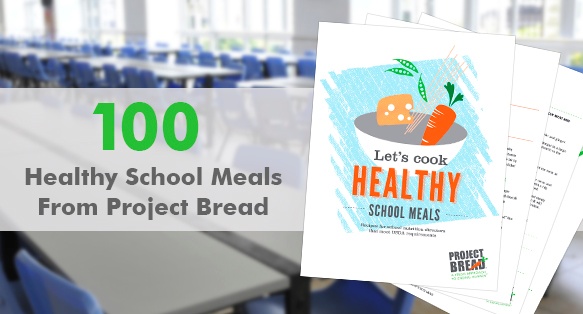 Project Bread is a non-profit organization based in Boston, MA that strives to "bring a fresh approach to ending hunger". With a dedicated group of public educators, thought leaders, nutrition professionals, and loyal donors, Project Bread has grown to become a huge player and catalyst in the fight for ending hunger.
One of their primary initiatives is providing schools with resources that help them serve healthy meals to our students every day. In Project Bread's Let's Cook Healthy School Meals Cookbook, they generously provide 100 healthy, satisfying, kid-approved recipes for schools across the nation.
Check out Project Bread's*
Let's Cook Healthy School Meals Cookbook (PDF)
The recipes in Project Bread's Let's Cook Healthy School Meals Cookbook were created by Project Bread chefs and Massachusetts school nutrition directors, tested by local students, and put through NUTRIKIDS Menu Planning for nutrient analysis and costing.
Each recipe was designed to serve 100 elementary (K-5) students and will meet one requirement (e.g. meat or meat alternative, green-leaf vegetable, etc.) of the new 2012 USDA regulations. The chefs behind the recipes based their calculations on the USDA Buying Guide and maximized the usage of USDA commodity products.
The cookbook also includes tips for using herbs and seasoning to amp up meal flavor, a list of the required equipment needed for each recipe, guidance on how to scale recipes up or down, and a full run-down of the 2012 USDA regulations.


More About Project Bread:
In the words of Project Bread, "the opposite of hungry isn't simply full — it's healthy!" Their initiatives promote this belief by creating sustainable change in five major areas:

Children & Schools: They provide resources and education for school nutrition professionals to provide healthy meals to our students.
Community Solutions: They provide communities with programs to bolster their local food economies, like food pantries, health centers, and elder meal programs.
Informing Public Policy: They provide the general public with the tools and knowledge they need to make an impact on the lives of those who are hungry.
Building The Food System: They work to create sustainable, reliable food system strategies that support local farmers, businesses, and public health.
Walk for Hunger: This 20-mile walk across Massachusetts raises awareness and funds to better serve those who are hungry.
* Heartland School Solutions does not own the Let's Cook Healthy School Meals Cookbook
---
What do you think of the recipes in Project Bread's Let's Cook Healthy School Meals Cookbook? Let us know in the comments: